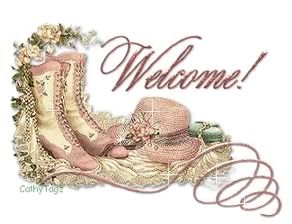 I've got quite a few followers to welcome today. I'm not very good yet at the code thing that makes sure everyone's blog is click-able (which was obvious from my last welcome post) but I think I've cracked it now - so..........Welcome everyone. It's lovely to see you here.
Carmen
My Realitty
Jayne
Melissa
Carmen
Flora
Ingrid
Synnove
Lisette
Cynthia
Arantxa
Choupavril
Cheryl
Monique
Monika
Sara Carlson (who doesn't appear to have a blog)
Taenia
Nuria, Rossana and Norma
Dona
Lara
Jody

There are more bloggers to welcome but I'll do that very soon. I hope you were all sitting comfortably!